Located at just a 15-minute's drive from Saintes, the Paléosite invites you to follow in Pierrette's footsteps, a Neanderthal woman who lived over 36 000 years ago here, in the little village of Saint-Césaire in Charente-Maritime. The area is near the archaeological site « La Roche à Pierrot », where she was found.
Nor a museum, nor a park, the Paléosite is a museographical site fully dedicated to the Neanderthal man, our far cousin and descendant of early humans. Through an interactive museography, screening rooms, archaeological collections and daily activities, you will live Prehistory as if you were there !
The activities are included in the entrance ticket
They are part of Paléosite's visit tour, no need to book (except if there is a specification for an activity).
To prepare your visit at the Paléosite
It takes about 4 hours… Let's discover what you can expect to see here.
Fire ingnition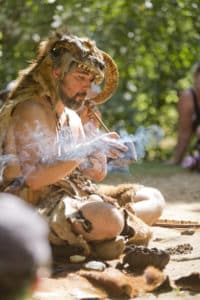 Actually fire can't be made by banging two bits of flint together  ! Our  activity leaders show you fire ignition using two different techniques appeared 250 000 years ago : the percussion technique and the friction technique. If you want to know more : this activity is perfect for you !
Flint cut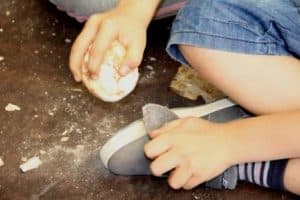 Humans always made rudimentary tools to eat, at that time they didn't have guns or knifes. They needed good weapons, that is why they spent long hours making efficient tools. If you attend this demonstrative performance, the flint cut won't hold any secrets for you anymore !
Lance throwing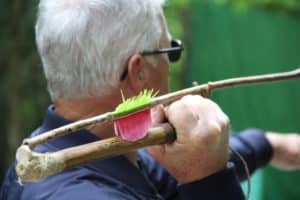 This invention has revolutionized hunting pratices from Palaeolithic thanks to the speed of the projectile, the spear, multiplied by 3 compared with a hand throwing. Our activity leaders will teach you the technical gestures so you can attempt this way of hunting, which was really innovative in Homo Sapiens.
Participatory activity for adults and children (from age 6 and above)
Unlike the daily prehistoric activities, the workshops are only held during school holidays. They vary and need to be booked at the reception desk (limited number of places).
Archaelogical digging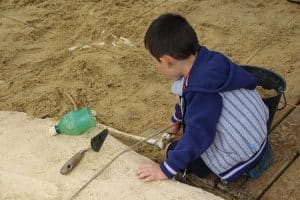 For one hour, children can learn the gestures and the archaelogical digging techniques like real archaeologists. Let's hope they will find some delightful discoveries !  From age 6 and above.
Other workshops
Check the Paléosite's agenda for some special prehistoric workshops  : « Vis ma vie de Néandertal » (Live my life as Neanderthal), neolithic pottery workshop, fossils discovery or fire ignition.
Opening hours
The Paléosite is open to individuals from the 1st of April to the 3rd of November 2019.
Opening hours are based on school holidays (all areas combined). The ticket office is closed between 12:30 pm and 1:30 pm.
1st April to 5th May 2019 : 10:30 am – 7 pm (everyday)
May, June and September : 10:30 am – 7 pm (closed Mondays and Tuesdays)
July/August : 10h30 am – 7 pm (non stop, every day)
October : 10:30 am – 7 pm (week-ends only)
Toussaint holidays : 10:30 am – 7 pm (from 19th October to 3rd November)
To fully enjoy your visit we suggest you arrive before 3:30 pm. The duration of the visit is around 3 hours.
Groups are welcome from the 1st of February to the 20th of December 2023
Prices
Adult : 10€
Child (6 to 14 years-old) : 6€
Child under 6 :Free
Reduced Rate : 8€ (student, job seeker, RSA beneficiary, teacher, disabled person) with a documentary proof
Family Pass (2 adults + 2 children from 6 to 12 years-old) : 26€. Thanks to this pass, your second child is free. Additional children have a reduced rate of 4,50€
Free : journalists or people with an ICOM card (with a documentary proof)
Cash (€), CB Visa or Mastercard   accepted
Our restaurant
Paleosite's restaurant « La Broche à Pierrot » is the perfect place to have a relaxing break and eat for lunch or take a snack at the end of the day.
The restaurant offers you simple and copious dishes with local products that can be appreciated by both adults and children. On sunny days, feel free to enjoy our terrace which has a panoramic view on the park and Homo Sapiens's huts.
The meals cost between 7.90€ and 16.00€ and the children's menu 7.90€.